Drawstring Bags Wholesale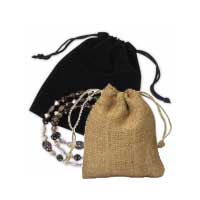 Drawstring Bags Bring A Little Life To Your Party
Need to find cheap drawstring gift bags at wholesale prices? Or are you having a wedding and need to bulk order small drawstring bags? We have a large selection of gift bags in fabrics like burlap, organdy, organza, velveteen and muslin. We carry a wide selection of small gift bags for use in holding jewelry, small food treats and any tiny thing that makes a good wedding favor. Fabric wine bags with burlap fabric are very popular. Wine gift bags, muslin cloth bags are great wedding or party favors. With prices starting at 17 ¢ per bag, you can't go wrong.
Why Buy Drawstring Cinch Bags?
Customer reviews for these small gift bags are positive. One person said, "These bags were perfect for the wedding favors at my son and daughter-in-law's wedding. They gave out handmade ceramic coasters with a dove pattern on the front and their name and date of wedding on the back. They measured just too big for the ones available in craft stores. Thankfully a nice woman in the store gave me the name of this site. It turned out these were even cheaper than I would have paid for the smaller ones at the store. They were very nice quality too!"