Plastic T-Shirt Bags Wholesale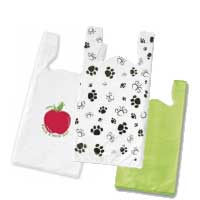 Merchandise T-Shirt Bags
Strong plain white T-shirt bags are the versatile and economical choice for groceries, books or T-shirts. These sport handles that make for easy carrying of up to 20 pounds of merchandise. If you prefer, go for a plain color, with plenty of choices for the hue you prefer.
Our printed t-shirt bags have designs that enhance your products. Pick an apple or pretty up with a rose. Opt for the country look with a gingham in red or green. Doggie paws are appealing. Or do the polite thing with a thank-you printed right onto the bag to let your customers know you appreciate their business.
These T-Shirt bags are made of high-density film that is recyclable, a plus for customers who are eco-sensitive. Made in the USA, the bags use up to 25 percent recycled content. The bags come in 1,000-unit cases.