Gift Wrap in beautiful designs for everyday occasions.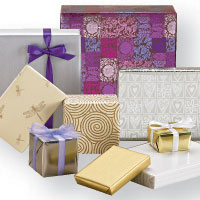 Gift wrapping paper can make or break the impression you want to leave with your friends and customers. Colorful and designer style papers, ribbons and bows help dress it up. Order today.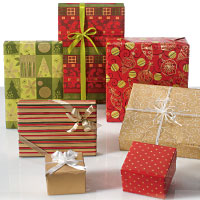 We have a big selection of gift wrapping paper for the holidays. Christmas wrapping paper is sold in bulk quantities.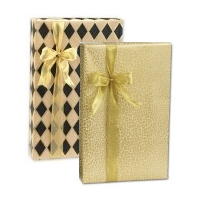 Gold wrapping paper gives your packages a royal look. Whether you celebrate Christmas or Hanukkah, using gold in your gift packaging themes is a winning strategy.
The Perfect Gift Wrap Source for Retailers
These elegant wrapping paper designs are for retailers or consumers who need that extra discount yet want to maintain high quality standards on their bulk orders of wholesale wrapping paper. Stock up for the Christmas season or for the holidays. Our gift wrap comes in several sizes including 24 inches by 417 feet and 24 inches by 100 feet. Many of our gift wrap rolls are recyclable and are made in the U.S.A.
Gift Wrapping Can Be Fun!
It's a pleasure for anyone just to anticipate what's inside a gift package. The wide selection of everyday and special occasion wrapping paper combines perfectly with matching or contrasting ribbons, twines and special add-on ribbons and bows. It's easy to put your personality or the personality of the recipient when you choose a cute gift packaging theme.
Some of the gift wrap has designs on both sides, so buy some and then follow your whims. For everyday occasions like birthdays, baby showers and just plain surprises, your selection of designs range from simple to simply fantastic and the holiday assortment lets you be traditional or sensational. Classic tissue paper is sometimes the perfect option either for wrapping or topping gift bags. And there is sure to be a ribbon or other trim that's the perfect accompaniment. And that about wraps it up!